August
Whitehorse Hotsprings, Steen Mountains and Alford Desert with @oregonislife84
NAME: Brandon K. Schenck
RIG: 2007 Fj Cruiser
DATE OF TRIP: March 2017
LOCATION: Whitehorse Hotsprings - Steens Mountain - Alvord Desert
I was active duty Army from 02-08 with a deployment to Afghanistan via the 82nd. I have been all over the world and those experiences are what drive my thirst for Overlanding. I may not be who I use to but I strive to find adventure at my own pace and ability. I got into Overlanding on accident, I just wanted to get an off-road vehicle and it went crazy from there, haha.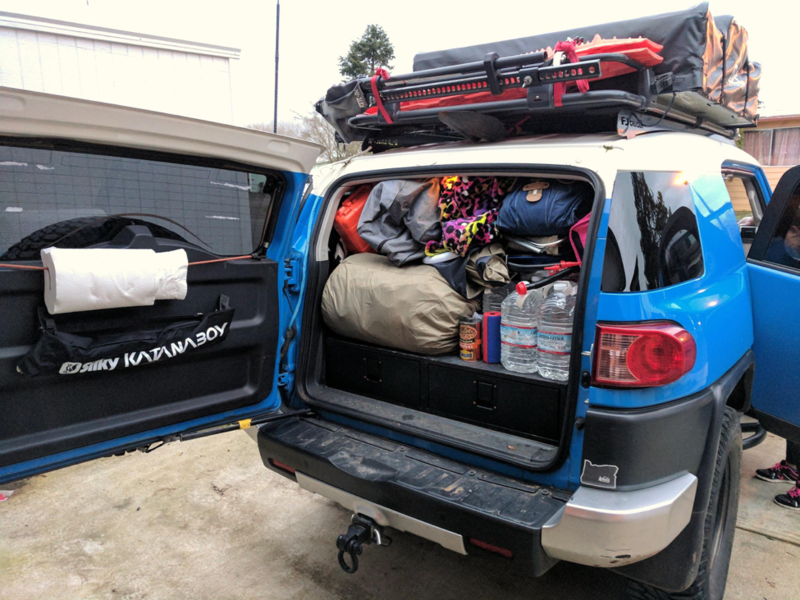 While I love to find easy hikes and Waterfalls in Oregon, will expand this eventually to include all of the PNW, I have an affinity for Hotsprings and seek them out as well. This adventure was planned around a hot springs called Whitehorse, south east of Steens mountain/Fields Oregon. Now that I had a location the packing is straightforward, bring everything but the kitchen sink! In my past life I did not get to glamp, while I loved playing hard I am ok with the easier life now.
The Fiance and I break up the responsibilities to make it easier on myself, I try and have smoked meats and BBQ pre-made prior to the trip and the rest of the cooking falls on her, I do the fires, packing and what not. Safety is always a concern for me so I try to pack for most problems that will occur when away from the safety of civilization. I always have a full set of recovery gear in my storage drawers in the rear, water filtration system(s), spare water containers filled, fire extinguisher and the list just goes on and on. A final note about prep, I try and have my GPS device, InReach Delorme, download the maps I am going to be exploring prior to my departure so I can always navigate my way from a bad situation, the SoS button is a nice thing in the back of my mind too!
It was a Sunday in March that was semi rare for this time of year in Oregon, we actually had the sun out with higher temperatures headed our way too! Weather had been checked, rig was already packed awaiting a reason to leave concrete, now we had one. Alvord Desert area 70+ no rain for the next 5 days said the forecast, ugh yes please? Time to get the dog ready and then load up in the FJ, let's start this adventure.





We left Salem early so we could find our spot prior to nightfall but due to driving across the entire state and a few stops for pictures and supplies, this left our arrival at a much later version than I had planned for. I never enjoy setting up camp at night but we do what we must, getting lost is something we allocate time for anyways so it's really no big deal as long as we are safe.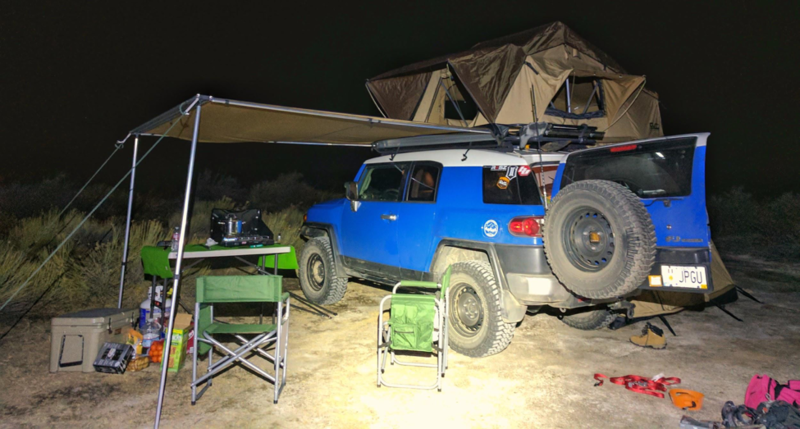 Once at our campsite, I say we are less than 75 feet from the hot springs, we popped out the RTT, tossed a few things out for a quick meal and off to bed we went with a great day of sights behind us ready to inspire that night's dreams. Whitehorse hot springs is what dominated our time while out camping, we soaked in those springs and not once had to share it with another human while we were in them! I am not sure of the exact temps that were in the hot springs but over where they fed in was more than enough to cut the early morning or late night chill that would fall on us. Water was very clear and bubbles came from the muddy/sandy bottom, you could even disturb the ground to get small bursts of heat!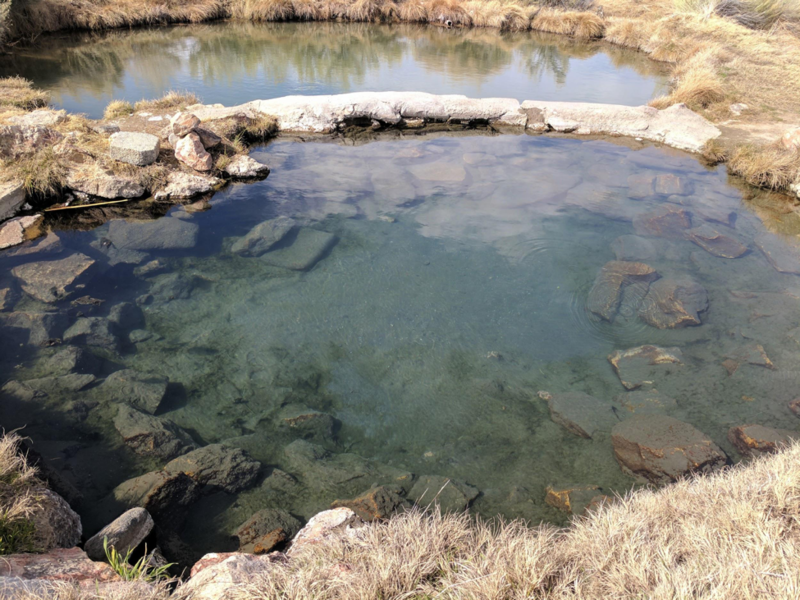 Views were great if you just looked around, in the distance there was Steens, we watched storms form above and around it, magnificent! We could see huge dust storms dancing inside alvord from where we soaked. Other peaks were all around us, while the names escape me those words are not what is important here, it is how you feel when you see them. For me, I take my wins where I can get them, no matter how small that win is every day needs to be a zero sum day. I need every day where at least one thing is a win, I can take losses by the hundreds but if I got a win in then my light is not put out, overlanding is so simple to get these wins in. Those views were something I wanted and by getting myself out of the house, and across the state, I was offered views that had me gawking and almost breaking my neck.
The sunrises and sunsets out there were something insane, the colors that can show up look like something out of a real life photoshop session going down in front of me. Pictures cannot do them justice but it is crazy, it comes on fast and intense and it so worth your time to see them. I love having my day start with an amazing sunrise and finish with a glorious sunset, it is just pleasant down to my core.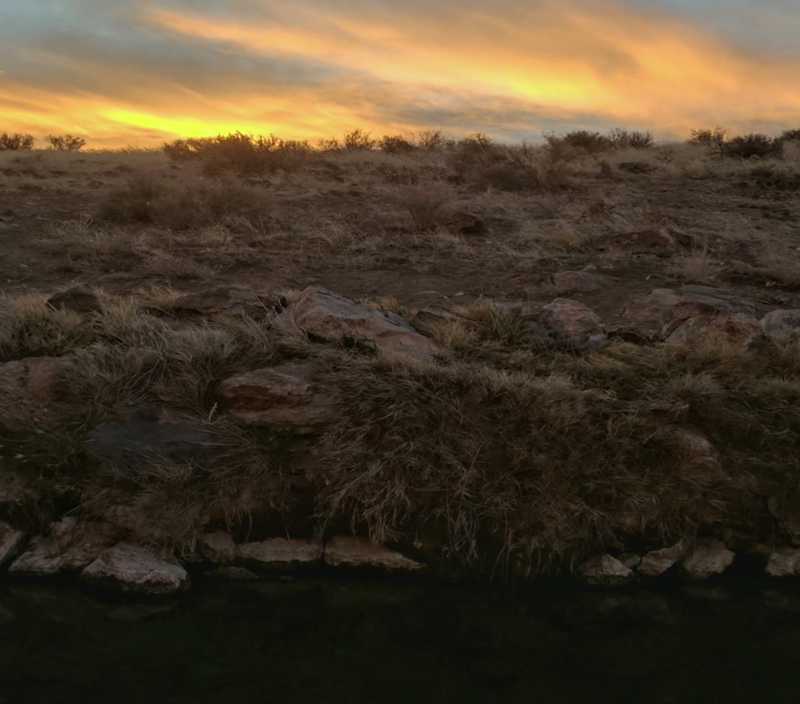 While out in this area, remember you are in the high desert area and winds will follow you if not already be present on your arrival. These can really be a safety issue, anyone seeing a theme here with safety, if you do not plan for and also become/stay active about them. On one of our final night winds broke 50+ easy, I dare say we broke 70+ as well, it was crazy and just came on with a furious anger. Since the tent held up in the end, it was a fun night, the Fiance and I even at a scream could hardly hear easy other over the whipping winds, fun!
It would appear the entire world echoes the same thing when in and/or around Fields Oregon, you must stop and eat at Fields Station. Get the shake for sure and I recommend the burger too, get everything you can fit in your mouth! The food is beyond tasty and more than a fitting way to end any overlanding trip. You will spend a few dollars but you will have a hard time to put back every bit that is served, bring your healthy appetite when you eat there.





Once our overlanding adventure had came to an end and camp was all packed, we made that food pit stop and then it was off to a surprise road trip. The trip is called "A Journey through time" scenic byway and just wow, that drive is one of my favorites now. I am not sure when it started exactly as it was a surprise to me but from Steens to the painted hills I had a
BLAST!!!
Every time I go out and camp is a new experience where both the Fiance and I learn more and more. This is a lifestyle that will help me in so many ways, I love Overlanding.



Awesome!