October
Hackett and Longwater Gulches, Lake George, CO

NAME: Joel Booth (VP of Colorado Veterans Overland Team)
RIG: 2016 4Runner SR5
DATE OF TRIP: April 28-29, 2017
LOCATION: Hackett and Longwater Gulches, Lake George, CO
I joined the Navy as a Corpsman in 2010, I deployed with 1st Battalion, 5th Marine Regiment in 2011 to Afghanistan. I had the opportunity to move back to CO and replaced my 2000 4Runner SR with my current 5th Gen. Linking up with a fellow Navy Corpsman I went to A-School with, and my wife who's an Army vet, our love for off-roading and adventure led us to start Colorado Veterans Overland Team (CVOT). We are veteran focused but have many civilians that add knowledge and experience to our group.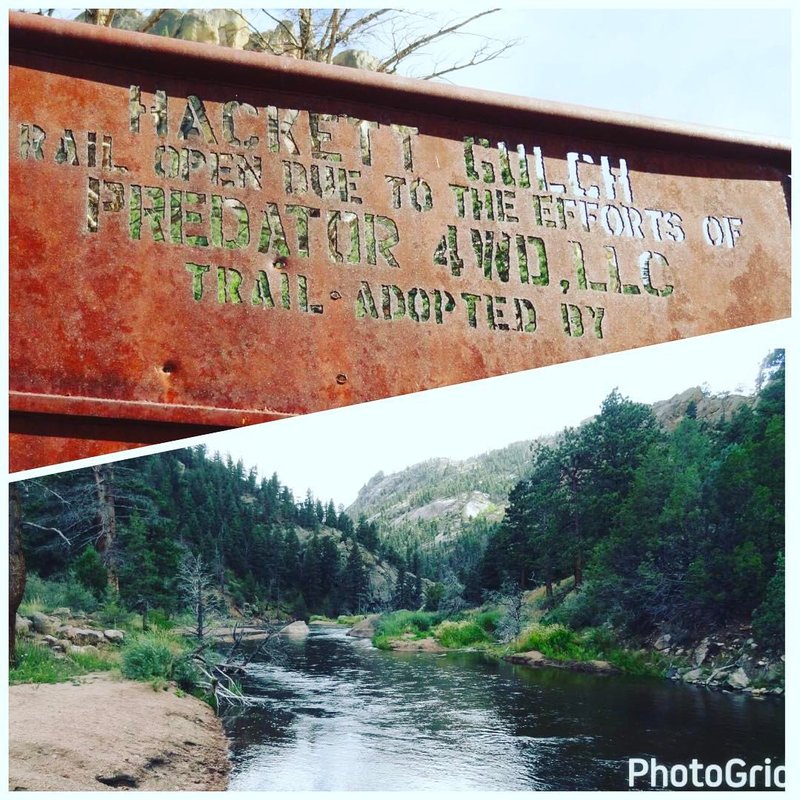 We announced our first camping trip about a month ahead of time to allow people to get off for work. I had chosen and ran Hackett Gulch twice before, once having a stock 5th Gen 4Runner with me, so I knew the trail was challenging but still fun for stock vehicles. We then ordered the rest of our recovery gear and I downloaded the map of the area as well as a potential egress route. There's a saying in Colorado, "If you don't like the weather, just wait ten minutes". As the weekend got closer, I kept checking the weather as the forecast is only good for 3 days out. Snow is not uncommon in the spring here and is good for economic reasons. The forecast predicted snow Friday night into Saturday. I relayed this to our group and they were still on board. As the Trip Leader, I advised them to bring enough necessities for 3 days if we couldn't get out of the Gulches.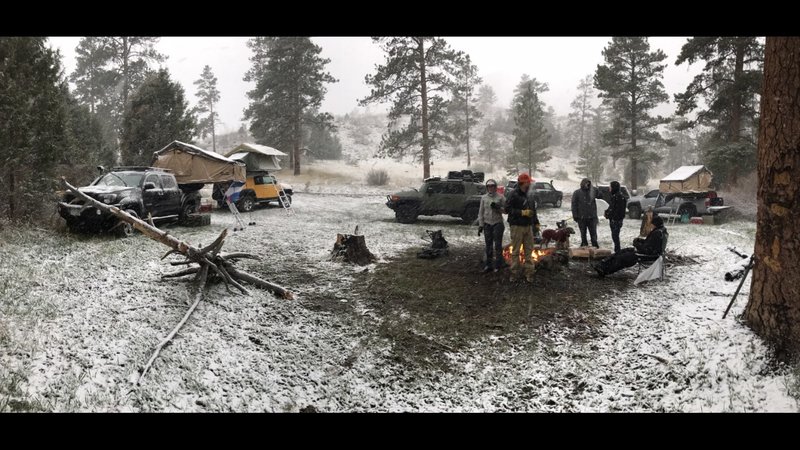 Being a friday, some people had to work and would meet us out on the trail or campsite. The rest of us started out down Hackett Gulch with the warm sun in our faces. Three quarters of the way down to the campsite it started to snow. The trail remained mostly dry initially, then only wet from melted snow. Once we reached our camp the snow started to come down pretty heavy.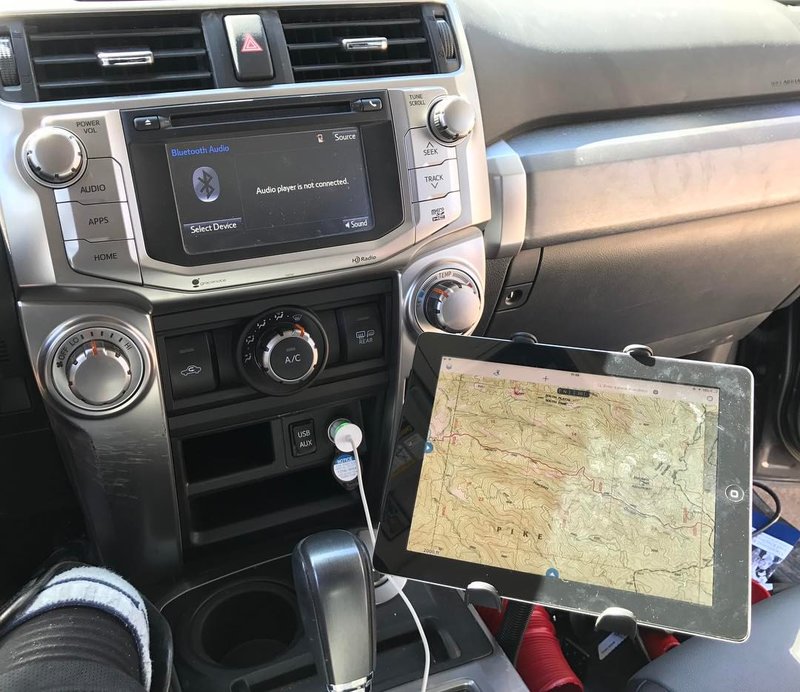 We all had our radios on and while standing around the fire my wife, Tasha, made (she's awesome), I heard the crackle of Joe's voice, our buddy, who was to meet us at camp. The GPS had led him to the wrong trail and couldn't figure out which direction to get to us. With the snow coming down at a steady pace, myself and Clayton headed back up the wet trail alone to find Joe. I figured out which trail he was on by the terrain features he was describing and met up with him about an hour later. All good right? By now, the trails had started to ice over a little and climbing slickrock became an issue. Were we going to be able to get back to camp? We definitely won't be getting out tomorrow via Hackett Gulch Trail due to the very steep slickrock obstacle named, Hackett Gulch Rock. Good thing I had planned ahead for an egress route: Longwater Gulch which is easier and connects Hackett back to the main road. We got back to camp, Chris and Abby handed us some celebratory beers around the fire and then we settled down for the night, snow still coming down.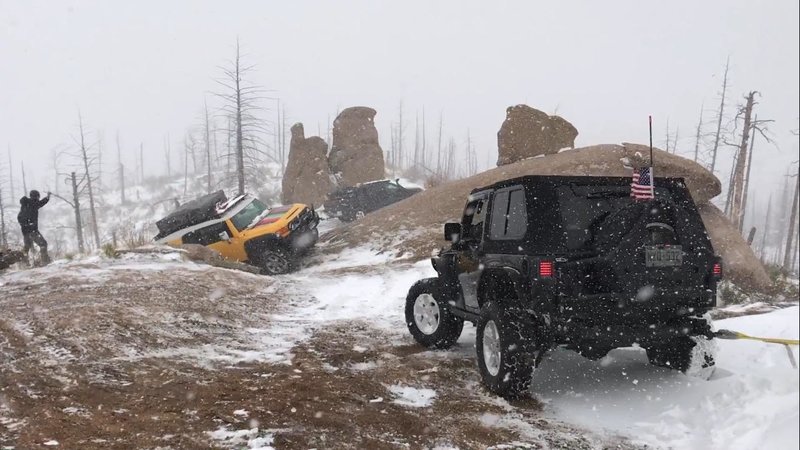 The next morning was cold soaked. We built a fire, ate breakfast, packed up, and headed up Longwater Gulch. Little did we know our trip wasn't over at all. Longwater Gulch Rock was iced over and what in dry conditions a 2WD vehicle could make it up, all the technology in our Toyotas couldn't climb the ice. Our short wheelbased Jeep JK had to winch himself up first, turn around, anchor himself, and start to winch everyone up the slab. This made for a time consuming and nerve striking event. We all were escorted up safely using a snatch block to allow for a safer winch line angle. The snow was deep in the drifts and conditions were near whiteout at some points. Zak, our CVOT president, lead the charge up and down the hills.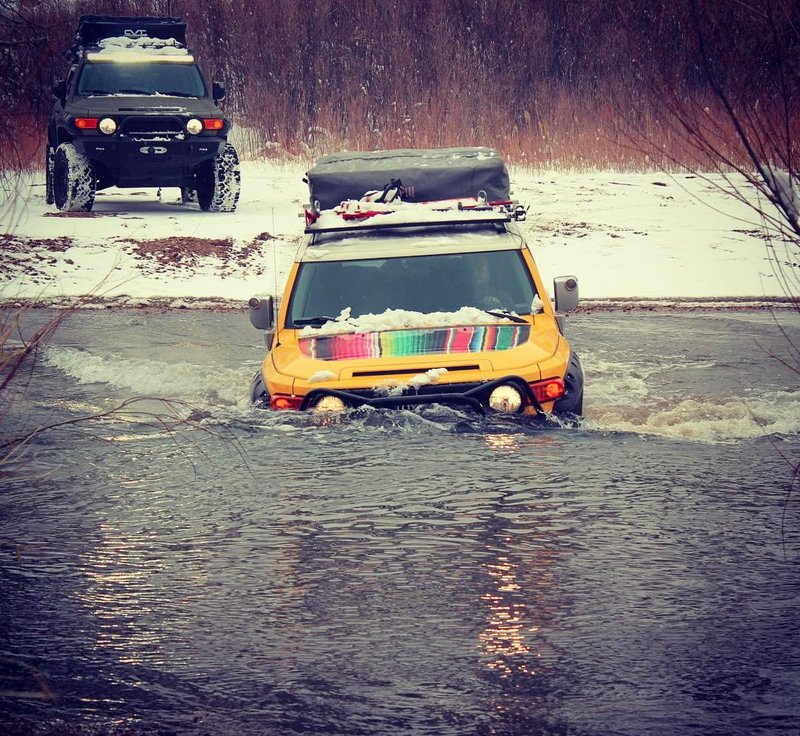 Finally, we made it to the trailhead. We all got out and passed the feelings of relief around. No one was hurt, no vehicle damage, and stress levels were much lower now. There were some tense moments on the trail the evening before and that morning. Having a military background which included good planning, calm in a crisis, and good resources: the expert knowledge from our civilian members; we actually enjoyed this outing. No one broke down mentally and no one got out alone. This was all due to teamwork, attention to detail, and a sense of adventure. I couldn't have asked for a better sense of camaraderie.